Nowadays, people search for all types of products and services online. Hence, it makes sense to create a website for your coin laundry business to generate leads. These are the major pages commonly found on a good website:
Homepage
The is usually the first page visitors see when they visit your website. It should tell the visitor about your business and how your coin laundry service can benefit your customers. Interesting images that support the text also help to make a good impression.
About us
A brief history of your experience in the laundry industry or your passion for the business could be included here. If your coin laundry belongs to a reputable franchise, you should also include information about the franchise brand and establishment. This page should assure your customers that you are a well-established, service- and quality-driven business.
Services
On this page, you can list all your coin laundry's services. Highlight the various branded machines in your coin laundry and how these machines can help to enhance your customers' laundry experience. Photos of your laundry facilities are essential. You should also mention other services provided such as cafe, children play area etc.
Blog
Maintaining a blog can help build your reputation as an expert in all things related to laundry. You can blog about your coin laundry, useful laundry tips, special offers, membership rewards or anything you wish to share with your customers. The blog helps to create a sense of community and get your customers to engage with your business.
Testimonials
This page should contain all the praises from your satisfied customers. It could be written in your customers' own words. Video recordings of testimonials also add more value and credibility to your coin laundry business.
Contact page
You should list your coin laundry's name, full address, phone and fax numbers, email address and social media icons on this page so that potential customers know where to reach you. Include an inquiry form for visitors to submit their questions or make a request.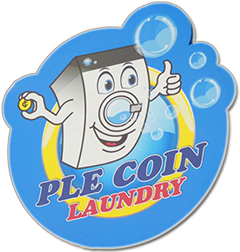 Building your coin laundry website is the first step to establish your business' online presence. You should review your website and update the pages as your business grows. If you wish to start your own coin laundry business, contact PLE Laundry Equipment Sdn. Bhd. at 016 – 262 2965 or 03 – 5633 6405 today.