World-renowned for unparalleled performance and innovation, Huebsch® laundry machines are designed to maximize cost efficiency. Our full range of commercial washers and dryers with ground breaking features will give coin laundry business owners the cutting-edge advantage over their competitors.
Every coin laundry operation uses commercial tumble dryers. It is designed to dry large items such as bed sheets, blankets and towels in a short time. Finding the right model to optimize cost savings is essential to ensure a profitable operation.
Huebsch Vended Commercial Tumble Dryers will deliver the cost savings you need.
Available in 25, 30, stacked 30, 35, stacked 45, 50, 55 and 75 lb capacities, Huebsch vended tumble dryers are designed to offer efficient, dependable drying performance to help you to save on energy bills and increase profitability of your coin laundry business.
Commercial Washer Extractors
Running a self-service coin laundry business is about minimising costs to maximise profits. Selecting the best commercial washer extractors for your shop is the first step to achieve profitability.
The Huebsch's Vended Galaxy line of washer extractors with eBoost technology greatly increases energy efficiency as it takes 33% less electricity and 11% less water to run than two-speed models. It is a durable, high performance machine which keeps your utility expenses low.
Available in 20, 30, 40, 60, 80 and 100 lb capacities, Huebsch's washer extractors with eBoost give you top performance every time.
High performance front load washers are an essential part of a coin laundry operation. It is important to select models which provide you great cleaning power while maximising cost efficiency.
With Huebsch Vended Front Load Washers, you will get 20% larger capacity to accommodate bigger loads.
This Huebsch Vended Front Load Washer range with cost-saving features is a great choice for your coin laundry business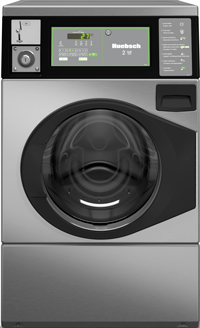 In order to optimise cost efficiency from shorter drying time, many coin laundry operations choose to use Laundromat dryers which can handle large loads and have faster drying cycles.
Huebsch's commercial vended dryers can meet the demands of coin laundry operations and are specially designed with a durable porcelain enamel top.
This model has larger capacity and faster drying cycles to cut short the time your customers need to spend doing laundry in your shop. It can help increase turns through your shop to enhance your operation's profitability.
Many coin laundry operations opt for top load washers which can help save utility costs and deliver great cleaning power at the same time.
Huebsch Top Load Vended Washers promise to maximise energy savings with low water usage, higher spin speeds and advanced controls.
Designed to offer high performance cleaning while helping you save on operation cost, Huebsch Top Load Washer range is a wise choice for business smart coin laundry owners.