If you are new to the coin laundry business, it is best to work with a reputable coin laundry partner who knows the ropes of the industry. Choosing the right partner can increase the success rate of your first coin laundry venture. Here are 5 criteria to look for in a potential partner:
Location analysis
A strategic location for your coin laundry can attract the right target customers. Your partner must have the expertise and knowledge in commercial real estate to help you find and select the right location for your business.
Facility design
An effective layout for your coin laundry will optimise your customers' laundry experience. A good partner can provide valuable advice on the appropriate shop layout for your coin laundry for better customer comfort and energy consumption.
Equipment range and features
It is best to work with a partner who can offer you a wide range of coin laundry equipment that fits your needs and budget. Your partner should be able to advise on the best equipment options and features to achieve cost efficiency for your business.
Training and sharing knowledge
In addition to usage and maintenance of the laundry equipment, your partner must train you in all the various aspects of managing a successful coin laundry, as well as offer advice when you encounter any obstacles along the way.
Repair and support services
It is important to minimise down time at your coin laundry when the machines break down. Select a reliable partner that can promptly provide technical support and repair services during such times to ensure minimal disruption to your business.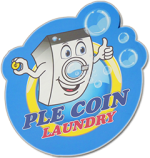 As Malaysia's top commercial laundry equipment supplier, PLE Laundry Equipment Sdn. Bhd. has the expertise and capacity to support aspiring entrepreneurs in the coin laundry business. For more information, call us at 016-262 2965 or 03-5633 6405 today.