If you have just started your first coin laundry operation, you probably have a limited marketing budget. However, there are still ways to promote your business without spending too much. Here are 5 ways to market your coin laundry on a budget:
Be active on social media
A coin laundry's target customers consist of urban working adults, college students and young families. These groups are usually active on social media platforms such as Facebook, Twitter, Instagram, Pinterest, Reddit, LinkedIn, Google Plus and Snapchat. Choose a few platforms to promote your business and engage with your potential customers.
Create relevant content
Good content on your social media platforms keeps potential customers engaged and builds your business credibility. You should focus on all things related to laundry such as useful tips and expert advice that your audience may find helpful to increase traffic. You could keep your content format interesting with blogging, videos, podcasts or infographics.
Organising fun contests
You can attract potential customers by organising fun contests with attractive prizes such as special discount or free laundry service for a month. One example is to adopt viral marketing by encouraging your existing customers to share creative photos of themselves in your coin laundry. Spread the word about the contest via your social media platforms to build brand awareness and connect with potential customers.
Little things matter
One way to keep your brand in the minds of your existing and potential customers is by giving away free stuff with your branding such as keychains, bumper stickers or fridge magnets. Personalised greetings on special occasions and holiday seasons can also help build a strong relationship with your customers and turn them into your business ambassadors.
Use the media
Get the local media to feature your business for free marketing by sponsoring a public event or doing something for your community. It is a great way to give back to society while establishing a good reputation as well as spreading the word about your coin laundry business.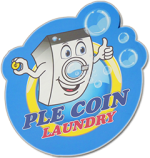 For more business advice on how to run a successful coin laundry operation, consult PLE Laundry Equipment Sdn. Bhd., Malaysia's top commercial laundry equipment supplier, by contacting us at 016-262 2965 or 03-5633 6405 today.