If you have an entrepreneurial mindset, are tech savvy and actively looking to own a business, here are 5 reasons why you should definitely consider opening a self-service coin laundry business:
Recession-proof
A coin laundry service has become a necessity these days especially in urban areas. Hence, it has a high survival rate and can be run for many years. It is relatively low risk compared to other businesses which may be affected by emerging trends, economic cycles or other seasonal factors.
Scalable model
If you can run a successful coin laundry store, you can easily replicate this business model in a second location. Even with just one store, you can earn a healthy profit and enjoy a steady income stream for years.
Minimal labour and no inventory
With a self-service coin laundry operation, you can either choose to employ a single employee to run the store or you can pop in a few hours daily to check on things. You also do not need to stock up on inventory. This means you do need to manage human resources and inventory issues.
Flexibility
Unlike running a restaurant or a retail business, you do not need to be at the coin laundry for a fixed number of hours. You can even run the coin laundry as a side business. All you need to do is visit the store at your convenience to collect the cash and perhaps tidy up a little every other day.
Cash transactions
Most coin laundry use a coin system like those you find in a vending machine. The advancement of digital technology also allows your customers to pay for your coin laundry services using online banking. Both payment methods eliminate the problems of missing cash or chasing customers for payments.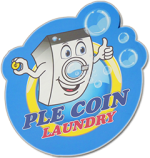 The coin laundry business is an opportunity for you to be your own boss. For more professional advice on how to run a successful coin laundry, contact PLE Laundry Equipment Sdn. Bhd. at 016-262 2965 or 03-5633 6405 today.