Effective social media marketing can yield fantastic results. If you are not getting the desired results from your social media platforms for your coin laundry business, you could be making one or more of the following not-so-obvious mistakes:
Getting defensive
How you handle negative remarks on your social media can make or break your business. If a customer makes a negative comment on your coin laundry page, you can politely find out why he or she made such a comment privately. Do not engage in an argument with the customer openly. This will only discredit your reputation.
Posting for the sake of posting
While you need to post regularly on your social media pages, don't put up a post when it appears uninspired. Such content will come across as irrelevant and fake. You will only turn your audience away with such meaningless posts and lose potential customers.
Be flexible with your content
It is definitely useful to plan your content ahead of time. However, you should not stick to your content planner rigidly. Change your content according to emerging news or viral events to show that your business is in tune with the latest trends and news development in your neighbourhood to enhance your coin laundry's popularity and credibility.
Too much promotion
Social media platforms are useful for increasing awareness of your coin laundry business. This does not mean you need to post about your business every day. Posting too many advertisements may annoy your audience. Instead, choose value-driven content that are useful such as laundry tips to build trust and potentially long-term customer relationship.
Lack of brand consistency
Do you maintain a consistent brand essence throughout all your coin laundry social media platforms? Does it project the same brand promise, look and feel? Brand consistency is vital to build a powerful brand that is instantly recognisable. Examples of such brands include Apple, Nike and Nestle.
These days, social media has become a crucial marketing tool. Master the finer points of harnessing this channel and you will reap the benefits for your coin laundry business.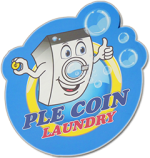 If you wish to start your own coin laundry operation, call PLE Laundry Equipment Sdn. Bhd. at 016-262 2965 or 03-5633 6405 today.