Nowadays, we live in a world that is more visual than ever before. This means that small businesses will need to think carefully about their branding in order to stand out in the crowd. The following are the three very important tips for branding your coin laundry:
Logo
Many factors contribute to an impactful logo design including colour appeal or colour combination. For example, red may be an auspicious colour in the Chinese culture but it is also associated with danger or no entry. So, choose your colour scheme wisely. Your logo must also incorporate a short and simple tagline highlighting your unique selling proposition (USP). Generally, a good logo is easy on the eyes, has a simple design and a great tagline, and is easily recognisable and remembered.
Social Media
In order to reach your potential customers who are mostly active on some form of social media platform such as Facebook, Instagram and Twitter, you will need to maintain an online presence in these media. Hence, make sure your coin laundry logo is the right fit for each platform in terms of size, colour contrast and picture resolution.
Website
Another way to reach your potential customers is a website. The same colour scheme principles apply in designing your website. It should also showcase your coin laundry's USP. To make your website more interesting, you can add visual content such as infographics or laundry videos to educate your customers and generate leads for your business.
Sometimes it takes more than one attempt to get your branding right. It is absolutely acceptable to change your branding over time to reflect the latest online trend. Most importantly, use your instincts and gather customer feedback to find the best fit.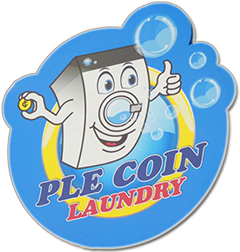 If you're looking to operate your own coin laundry business but don't know where to start, contact PLE Laundry Equipment Sdn. Bhd. at 016 – 262 2965 or 03 – 5633 6405 for a consultation.