Giving a good name for your new business is just as important as naming your new born child. The following are some useful tips to choose a good name for your laundry business:
Short and Simple
A long name is hard to remember. Keep it short and use simple words. Clever play of words such as using a catchy phrase or rhymes will make it easier for your customers to remember the name of your shop. For example, Clean & Go or Easy Laundry.
Tell a Story
The name of your business must build brand character. For example, if you offer high performing cleaning technology, your shop name should capture this essence. In this case, you could use the name Modern Cleaning or something similar to reflect the image you want to project.
Lost in Translation
In Malaysia, most English business names are translated into multiple languages including Bahasa Malaysia and Mandarin. Some names when translated may mean something else or even sound indecent. Hence, you want a name that has a positive translation in these languages so you don't get in trouble or end up as a laughing stock of the neighbourhood.
No Location
You may think it is a good idea to include the location of your area into your business name to create a sense of 'belonging' to the neighourhood. However, this could create a problem when you decide to relocate or expand your laundry operation by setting up a new branch in a different location.
Availability
After you've decided on the name, it is essential to check its availability via the relevant patent and trademark as well as business registration offices. Using a name already owned by another business could get you into a legal mess.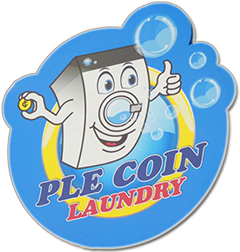 It's time you take charge of your future. Make the first step to owning a coin laundry business today. Contact PLE Laundry Equipment Sdn. Bhd. at 016 – 262 2965 or 03 – 5633 6405 for a comprehensive business consultation.